The People's Choice - Vote now!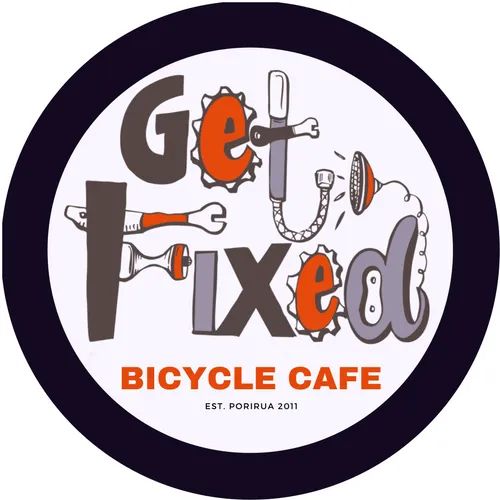 About My Business
Get Fixed Bicycle Cafe originated from humble beginnings in the form of a bicycle workshop in our home garage. Simon's reputation grew, as did the business and after discussions with Porirua City Council we collaborated to activate an under utilised part of the city in the form of a pop-up business by placing one converted shipping container (fully converted by Simon) on a piece of grass to operate a bicycle cafe and workshop. We opened in January 2018. 2022 and we are stronger than ever - a thriving destination spot & community hub. Expanding from 1 single container to now operate out of 8 converted shipping containers we've withstood a move of location and Covid restrictions. 2021 saw us win The NZ David Social Impact Award and Porirua Small Business Award and this year were were a finalist in the Wellington Gold Emerging business award. We have also recently opened a second bicycle cafe in the vibrant Brewtown complex in Upper Hutt.
Why We Should Win The Peoples Choice Award
Our workshop, as well as repairs and servicing specialises in electric bike conversions and custom wheel building. We also offer bicycle hire, tours and from time to time, free community workshops. We run an annual Christmas Fix Up event which asks the local community to donate their old bikes for us to fix and make safe to then donate to charities and local families in need. Our commitment to community has seen us sponsor the Porirua Grand Traverse multiple years running and other local cycling events and groups such as USO Cycling. We offer discount rates to school cycle fleets and provide sponsorship to local schools and NFP groups. We provide free parts to Paekakariki Bike Library and short term work placements for troubled youth from Porirua Alternative School. From cafe we offer extensive plant based options on our inclusive menu and we try to source local where possible. People travel to sample our delicious food and our participation in WOAP has helped to put us on the map as a foodie destination. Offering a largely vegan menu in Porirua was a risk but it's paid off as feedback tells us that many of our customers choose our plant based options over standard meat and dairy regulars - vegan or not. Our cafe space is a community place where we hold free community events in conjunction with Porirua City Council, Porirua Public Library and Nannys Plus to name a few. We have also provided a space to showcase Aotea College musical students and Porirua Brass Band as well as other local acts. A risk we were prepared to take was to ditch offering single use coffee cups in favour of Again Again hire cups. Our customers aren't always happy when we tell them there is a refundable hire fee but it's a compromise we're willing to take on the chin in the name of sustainability. With landfill requirements on the rise in most cities we don't want our business to add to the 295 milliion single use cups that go to landfill each year in NZ. Community and sustainability are a big focus for us and are intrinsic to how we run our business every day. We have always sought to not only run Get Fixed Bicycle Cafe and Workshop successfully but to always look at ways to give back and create some love in the space we occupy. Our focus on sustainability extends past the promotion of getting more people on bikes and filters through to everything we do. We offer an affordable household refill station and are the only drop off point for Ecostore empty bottles. The bottles are sent back to Ecostore for recycling and reuse in a closed circle recycling programme. As well as ditching single use coffee cups in favour of Again Again hire cups we support local artisan businesses by selling their products in our retail area including beautiful cups made by Saskia Hendricks. Rather than putting more pressure on the fragile below ground infrastructure, we invested in a Bioloo composting toilet which will provide clean, pathogen free compost within 18 months with no impact at all on the immediate environment. Instead of sending all of our waste to landfill we separate our refuse and ensure we recycle glass, plastic and metals. Along with this we sell products that offer our customers ways to lessen their impact on the earth such as the Mylk Made alternative milk range that provides consumers with a way to make their alternative milks from a paste rather than buying endless tetrapak cartons that will inevitably end up in landfill. As well as this we make our own Kawakawa facecream and offer discounts on consecutive jars when an empty jar is returned. Edible cups and straws are other options we provide to our customers to minimise waste. A mainstay of our day-to-day is to offer free coffee and/or curly fries to members of the community who fill a bag of rubbish collected from the adjacent beach. We are a family owned and run business and we pride ourselves on running a close-knit, happy team who stick with us. We have a very low rate of attrition.
---