Get your supporters voting!
The People's Choice Award is a great opportunity for you to drum up a bit of social media activity around your brand. It's also a great way to get supporters on board and have a bit of fun with those involved in your business, your customers and your community.
Even if your business is very new, or maybe not able to compete in other categories for some reason, the People's Choice Award still gives you an opportunity to gain recognition for getting to where you are (you do still need to meet the eligibility criteria here).

Download the voting button at the bottom of this page and ask people to vote for you! (Using the button is optional but highly effective.)
There are lots of things you can do to get more votes. Here are just some ideas:
Get your entry in early - the more time people have to vote, the more votes you are likely to get.
Write your People's Choice entry with the voter in mind. The entry form tells you which sections the public will see - leverage them to talk directly to those who might vote for you. Remember, voters will be members of the pubic as well as your own supporters.
Bear in mind some voters will never have heard of you or your business. Make sure your entry doesn't assume they already know anything about you.
Get voters emotionally involved in your story. Help them feel a connection to you!
Ask for their vote - don't just hope they will click a button or a link.
Provide potential voters with a link directly to your People's Choice entry (not the page where they have to find you among all the other entrants). When you submit a completed entry you will be provided with this link. You can also find it by going to the People's Choice page and finding your entry there. When you click through to it, the link you need is displayed in the browser address bar. You can copy it from there to share it.
Harness the power of social media to get as many people voting for you as possible. Create posts and share them, and ask your followers to share them again (and so on). At the bottom of your entry page (as per the bullet point above), there are also lots of social media sharing buttons for you to use. Don't be shy!
A series of posts can build a lot of momentum. What can you do to trigger this? A tip every day about your industry with a reminder to vote at the bottom? A countdown of sorts? Just remember you can't offer an incentive or prize in exchange for votes.
Try to "tell your story" before adding a call to action.
Put a "Vote for me" request with your link in your email signature.
Put a "Vote for me" request with your link in your newsletter.
If you're going to be at a market or you have a shop or other contact with customers, make a QR code and display it to make voting super easy.
Ask people in person to vote for you.
You can ask people more than once to vote for you. The best way to do this is to space your requests over several months and reword them every time so it looks fresh. Adding things like "Only 10 days keft to vote for us ..." is additional incentive for them to get on and do it now. People often need a few nudges before they take action.
Don't just use your business networks. Friends and family are great supporters too!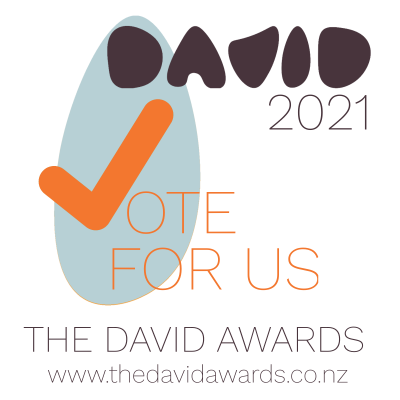 To download the button of your choice, right-click and choose "save image as" to save it to your computer. Resize as wished and use on your website, social media, email newsletters, email signature and even printed promotional material. Don't forget to add a link to your People's Choice Profile page. If you don't know what it is you can find your entry here, click the Learn More button to go to the page which is exclusively about your business, and copy the web address in the browser address bar.